So I guess this list's top 5 won't be too surprising since they were already in last weeks 5FF, however if you haven't seen it here are my top 10 favourite christmas movies. Advanced warning some (#6-8) are not your typical christmas movies, but since they are set at christmas time I included them.
10. Christmas With the Kranks (2004)
Tim Allen.. 'nuff said
9. Elf (2003)
not a big fan of Will Farrell but love love love Elf.
8.Batman Returns (1992)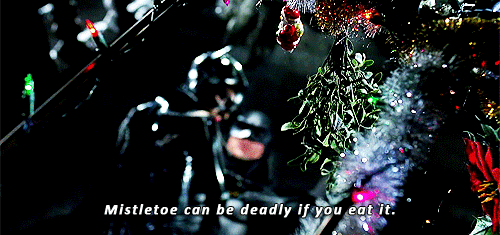 you don't think it's a Christmas movie? (see above gif) + Michael Keaton Again 🙂
7.Die Hard (1988)
The theme of Christmas is every where in this movie, as long as you look for it. There would be no movie had it not been christmas, the whole plot being because John McClane wants to be with his family over the holidays so he flies across the country. When you think about it there is actually a lot of similarities between this and home alone (although the ratings are obviously different) they both surround a guy protecting a place from criminals on Christmas using violence.
6.Lethal Weapon (1987)
Not your traditional Christmas movie but that is why it's on this list. I love the lethal weapon franchise, me and my dad watch them from 1-4 all the time. & it is technically a Christmas movie, it is set at Christmas time, there is a scene at a tree lot and it ends with a family at Christmas. And although not as obvious as in other Christmas movies, it teaches morals (like life is better than suicide, don't judge a nut-job by his cover, don't be overly trusting).
5. The Grinch (2000)
The opinions of Jim Carrey are simple, you love him or you hate him. I love him. I know he's over the top but that's what I like about him.
4. Four Christmases (2008)
3. The Santa Clause (1994)
Tim Allen is awesome in xmas movies, this movie began the Santa Clause franchise and is my favourite of the three. I love the whole plot from start to finish.
2. Home Alone 2: Lost in New York (1992)
Personally think they should have ended the home alone films here. McCauley was awesome, I loved that they had the same villains, the same kid, basically the same plot but it worked out awesomely.
1. Jack Frost (1998)
There are no words to explain how much I love this movie. Christmas just isn't Christmas until Michael Keaton makes me cry.
Honourable Mentions
1. Gremlins (1984)
2 Jingle All the Way (1996)
3 Bad Santa (2003)
4. Edward Scissorhands (1990)
5. Rocky IV (1985) –Similarly to Batman Returns, Die Hard & Lethal Weapon it's one of those movies people don't realize can qualify as christmas movies.